!! Mascarponeous !!
Oh these just look Delicious!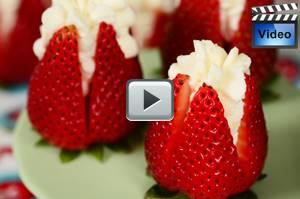 .
1/3 cup mascarpone cheese
1/3 cup (80 ml) heavy whipping cream
2-3 (24-36 grams) tablespoons granulated white sugar
Spoon the cream into a pastry bag fitted with a large open star tip (I used a Wilton 1M tip).
Pipe the cream into the strawberries.
If not serving immediately, cover, and place in the refrigerator until serving time.
Preparation time

15 minutes

.